SHOWCASING OUR EXOTIC JERKY
Browse our EXOTIC jerky, or select an option below!
BISON
Indulge in the robust taste of American Buffalo with our Bison Jerky - a true representation of this magnificent beast. Each bite is a testament to its grandeur, offering a satisfying chewiness without being overly tough. Delight in the pure, unparalleled flavor of the meat, uniquely distinct yet free from any gaminess. Truly, a gift to be cherished by all!
CAMEL
Introducing our 100% Pure Camel Jerky, a perfect gift for any occasion! Whether you're looking for a unique stocking stuffer, an exciting white elephant gift, or a daring challenge food, this camel jerky is sure to impress and delight. Embrace the extraordinary and savor the exotic taste of this one-of-a-kind treat!
ELK
Delight in the finest Elk Jerky, carefully crafted to highlight the exceptional characteristics of this remarkable meat. With minimal and mild seasoning, the natural taste of elk shines through, offering a truly enjoyable snacking experience that captures the essence of this extraordinary animal.
GATOR
Indulge in the exotic flavors of our Alligator Tail Jerky - a must-try delicacy that promises a once-in-a-lifetime experience. Rare and unique, this jerky is crafted from alligator meat, known for its juicy, tender, and incredibly delicious qualities. Brace yourself for a taste adventure like no other - it's a far cry from chicken and a truly extraordinary treat!
KANGAROO
Discover a culinary adventure unlike any other with our Kangaroo jerky! Don't miss the opportunity to savor this exceptional and unparalleled flavor. Give it a try, and you'll be blown away by the fantastic taste that sets it apart from the rest!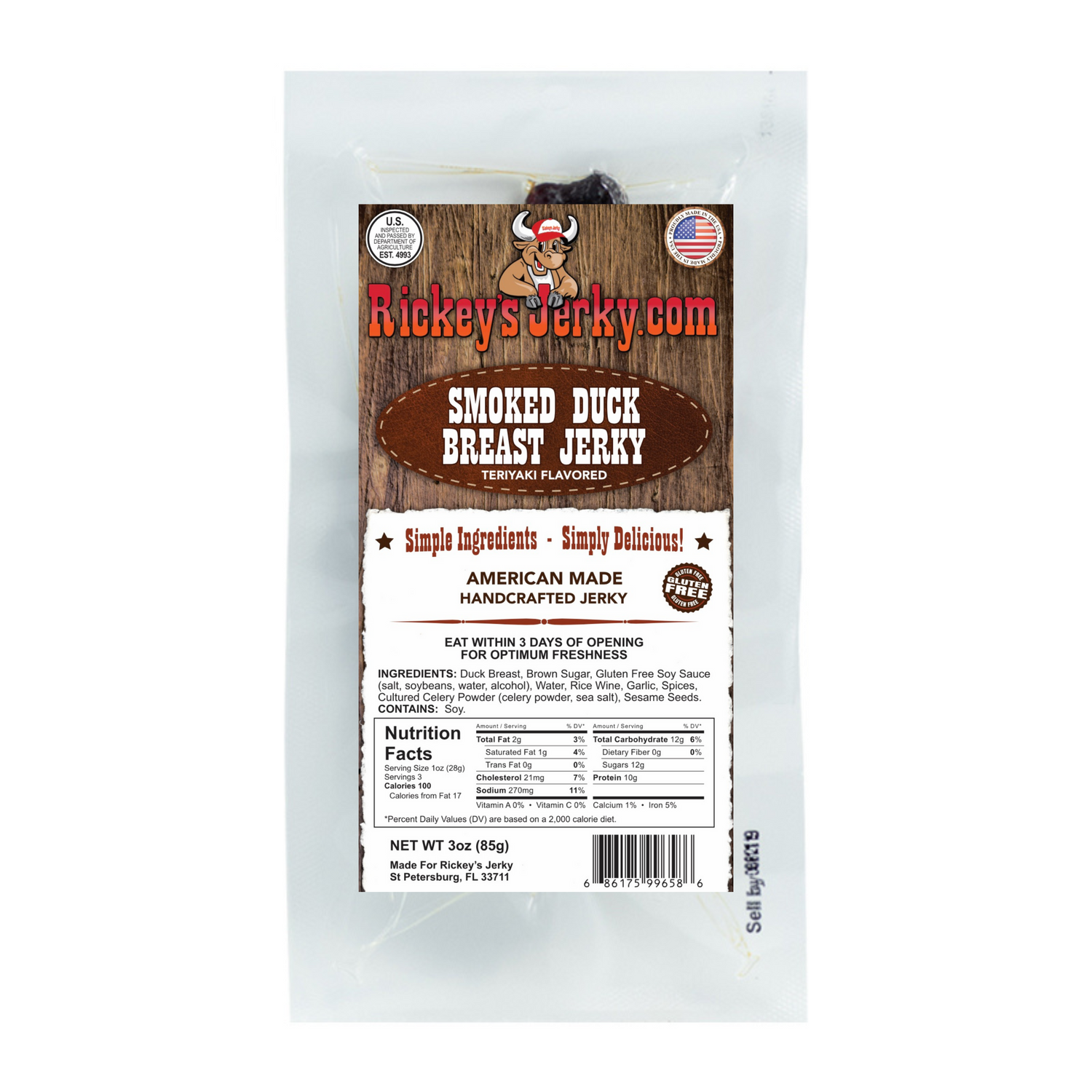 SMOKED DUCK BREAST (TERIYAKI)
Experience the quack-tastic flavors of our Duck Jerky! With its strong and gamey taste, duck meat offers a unique profile closer to red meat than chicken. Rich in fat, when prepared just right, it delivers a perfect blend of tender, moist protein with a luxurious fatty mouthfeel. The exquisite taste of duck can be likened to the richness of liver or the savory goodness of steak, making this jerky an exceptional treat you won't want to miss!
SMOKED RABBIT LOINS
Indulge in our most tender jerky offering - Rabbit Jerky! This white meat delicacy boasts a robust flavor similar to chicken, while enhanced by a delightful touch of slightly sweet teriyaki sauce. Carefully crafted and packed with love, our Rabbit Jerky guarantees a mouthwatering experience that's both healthy and delicious. Perfect for any occasion, this unique treat is sure to satisfy jerky enthusiasts and food explorers alike. Don't miss out on the ultimate jerky adventure - grab your pack today!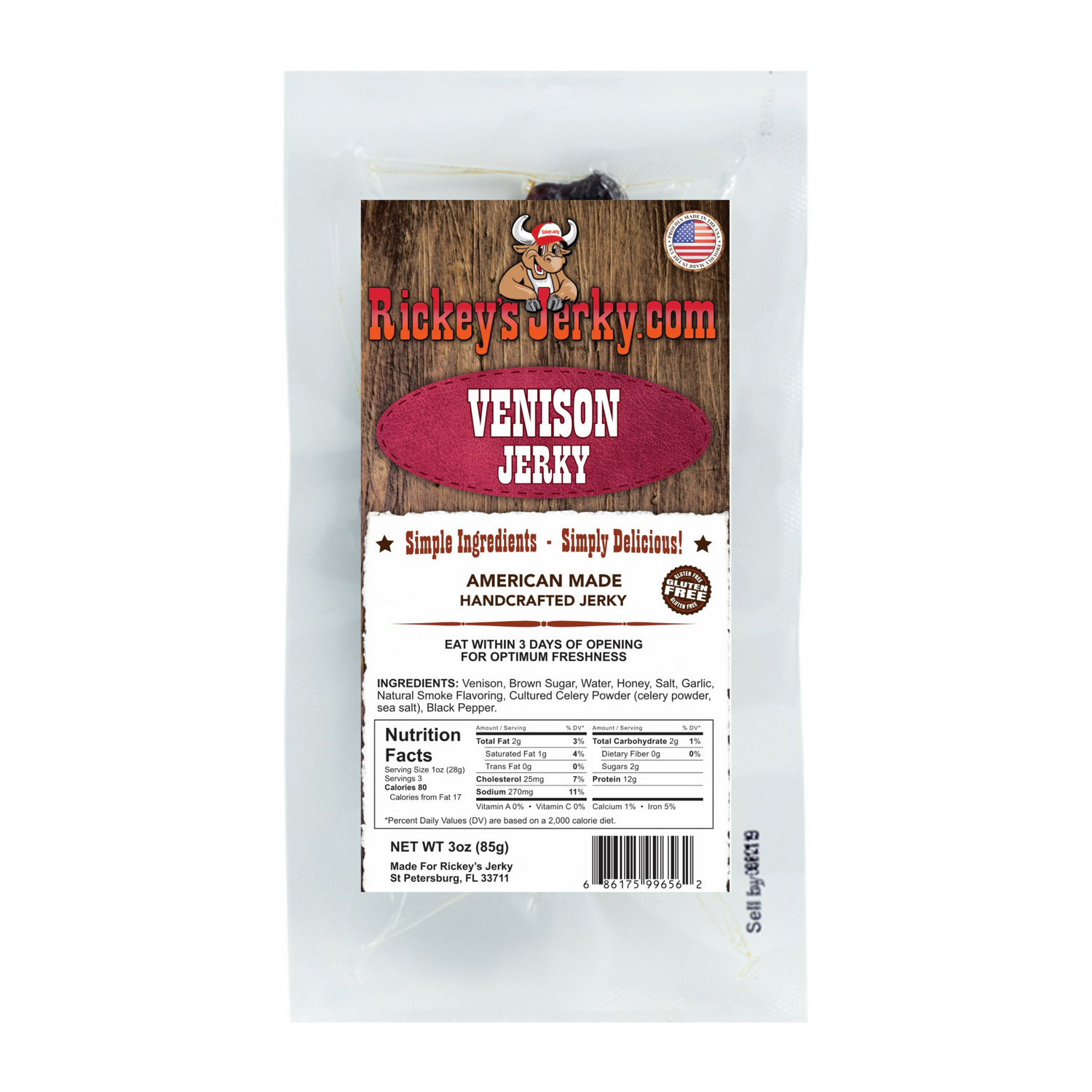 VENISON
No need to go hunting yourself; we've got you covered. With minimal seasoning, this wonderful meat shines through in every bite, allowing you to savor the true essence of venison jerky. Say goodbye to the wait and dive into this delightful deer jerky experience!
WILD BOAR BOURBON
Experience the delectable flavors of feral swine enhanced with the sweetness of brown sugar, maple syrup, and the richness of bourbon.