BEEF JERKY
Indulge in our premium jerky, skillfully crafted with 100% American Choice Beef. Our recipes boast all-natural ingredients that are completely free from nitrates, MSG, high fructose corn syrup, and gluten.
Browse Beef Jerky Flavors
EXOTIC/GAME JERKY
Experience the difference with our jerky made from filet strips taken from the finest cuts of meat. This guarantees that every slice of jerky is 100% pure, without any fillers. We maintain our unwavering commitment to incorporating solely natural ingredients.
Browse Exotic/Game Jerky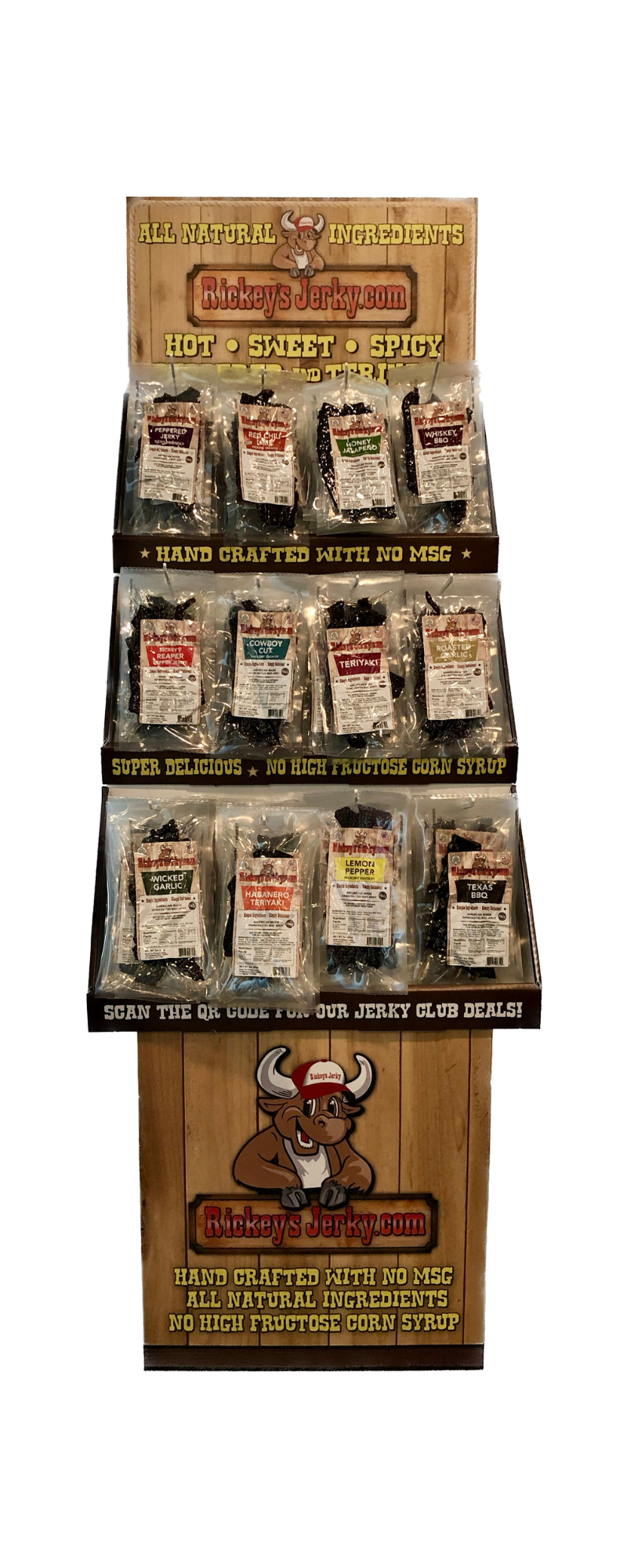 START SELLING RICKEY'S JERKY
Starting in 2014, our family embarked on a journey across the United States, sharing our delectable jerky with fellow travelers. Now, you have the chance to join in!

Whether you're a business owner yourself or acquainted with one, the idea of having a delicious snack option for customers or personal enjoyment has likely crossed your mind. Have you ever considered the possibility of distributing jerky to local spots, remote locations, or wherever your ventures take you?

Rickey's Jerky is now open for wholesale opportunities, and the possibilities are limitless. Our ideal wholesale partner is a small to medium-sized business with fewer than 100 locations, one that recognizes the value our product can bring to their establishment.

For Business Owners: We'll provide the display stand and a supply of jerky. Your task is setting it up, and we'll walk you through pricing and shipping details.

For Distributors: Similar to business owners, except you're responsible for identifying your own customers and locations. This presents a substantial chance to establish your own enterprise. Begin by creating and managing your own route. As demand grows, you might even consider hiring personnel to handle restocking, enabling you to expand your routes further.
CREATE ACCOUNT