SHOWCASING OUR BEEF JERKY
Browse our BEEF selection, or select an option below!
COWBOY CUT
Rediscover the classic flavors of your childhood with our Traditional, Smokey, and Savory Jerky. Reminiscent of the jerky you know and love, this selection brings the comforting taste of nostalgia to every bite.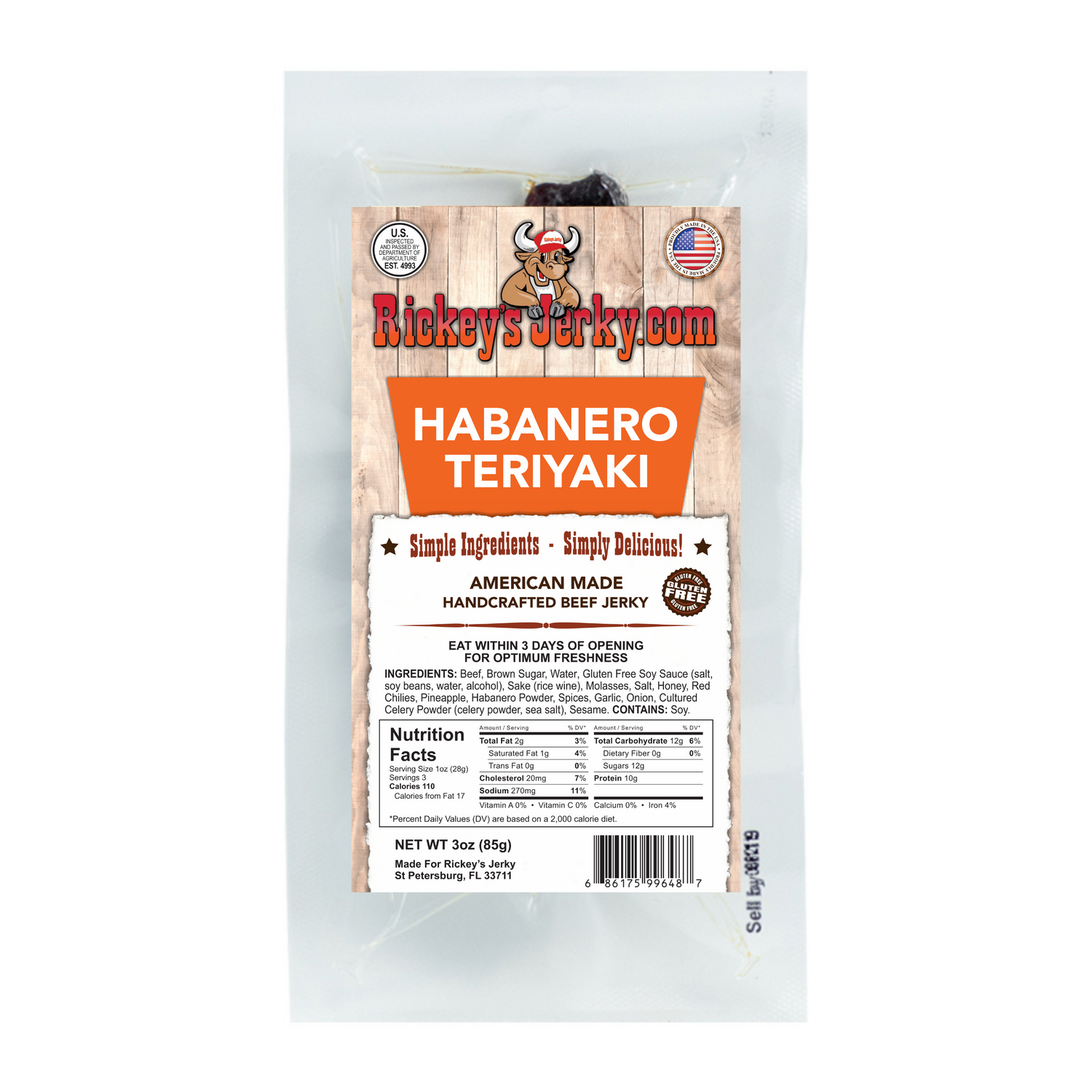 HABANERO TERIYAKI
Introducing our sizzling Habanero Teriyaki Jerky - the perfect choice for those who crave a delightful blend of sweetness and heat! This jerky takes the "sweet and spicy" experience to a whole new level, offering an exhilarating flavor adventure. Brace yourself for the ultimate burst of taste as you indulge in this fiery delight, and we highly recommend keeping a refreshing cold beverage of your choice close by to tame the heat. 
🔥🔥🔥
HONEY JALAPENO
Unveiling our cherished Honey Jalapeno Jerky, crafted from an old family recipe. With visible jalapeño slices, the tender meat is exquisitely infused with honey and jalapeño for a delightful flavor, offering a gentle pop of heat towards the finish. Despite its name, this jerky is milder than you might expect, presenting a subtle spiciness akin to peppered jerky. We're confident you'll relish this unique taste sensation and enjoy every savory bite!
🔥
LEMON PEPPER
Introducing our latest addition - a NO SUGAR Lemon Peppered Jerky! We listened to your requests and crafted this zesty delight to perfection. Just like the rest of Rickey's Jerky, it remains Gluten-Free and All-Natural, ensuring a wholesome and flavorful snacking experience. Enjoy the tangy burst of lemon and the bold kick of pepper, all without any added sugar!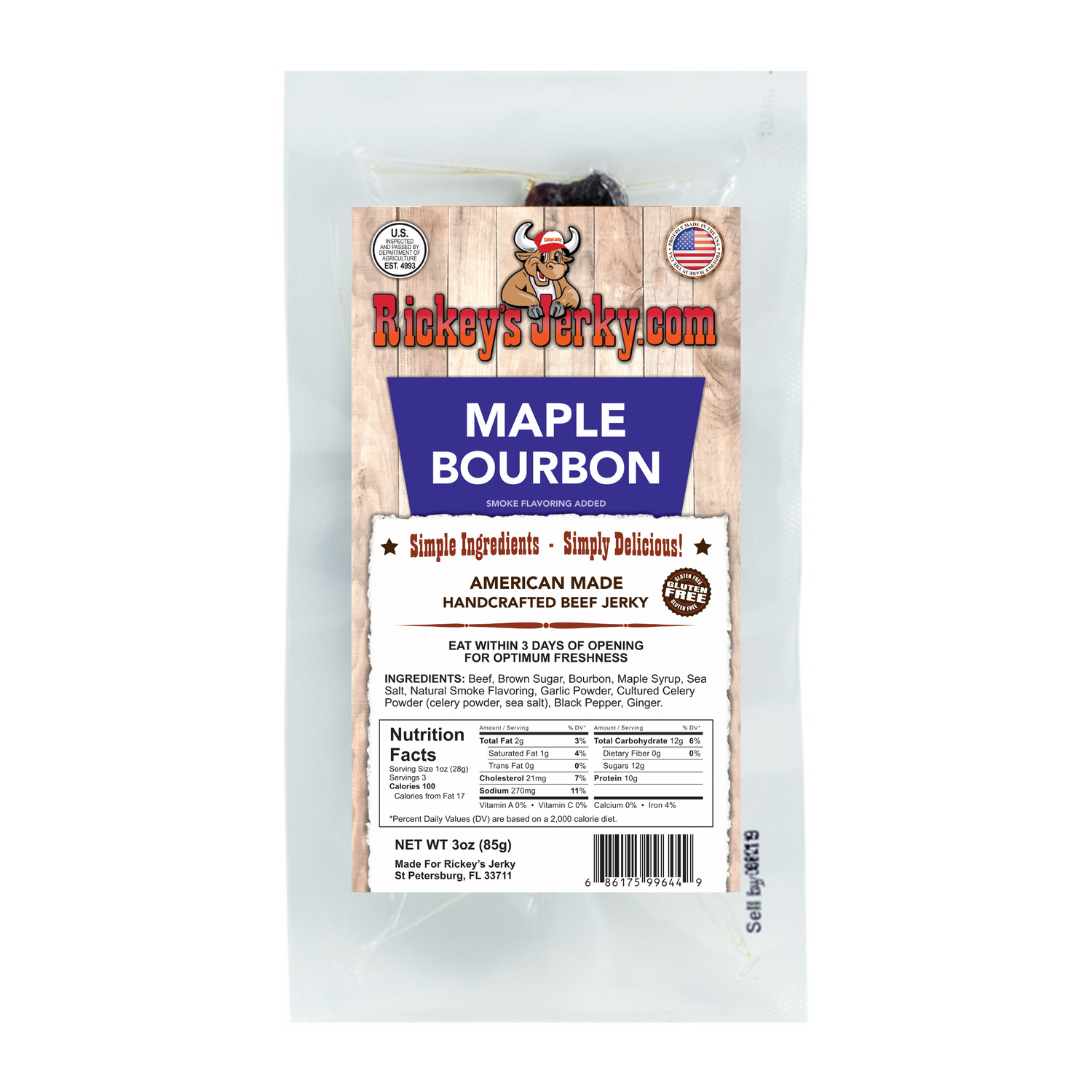 MAPLE BOURBON
Indulge in the ever-popular Maple Bourbon Jerky - a top seller loved from coast to coast. Its sweet, tender, and juicy flavor carries delightful maple characteristics, making it a favorite among jerky enthusiasts. Crafted with Kentucky bourbon, rest assured that the whole family can relish it, as the alcohol evaporates during the smoking process. A true treat that captures the essence of sweet and smoky goodness!
PEPPERED
Indulge in our Keto Peppered Jerky, proving that jerky can be both delicious and healthy! Crafted with clean-living in mind, this specialty offers a mere one carb and no sugar - a true keto-friendly delight. The smoky peppered flavor is perfectly balanced with a mild spice, making it a satisfying treat that embodies simplicity and the authentic essence of classic beef jerky. Enjoy guilt-free snacking with every bite of this well-crafted, clean, and flavorful jerky!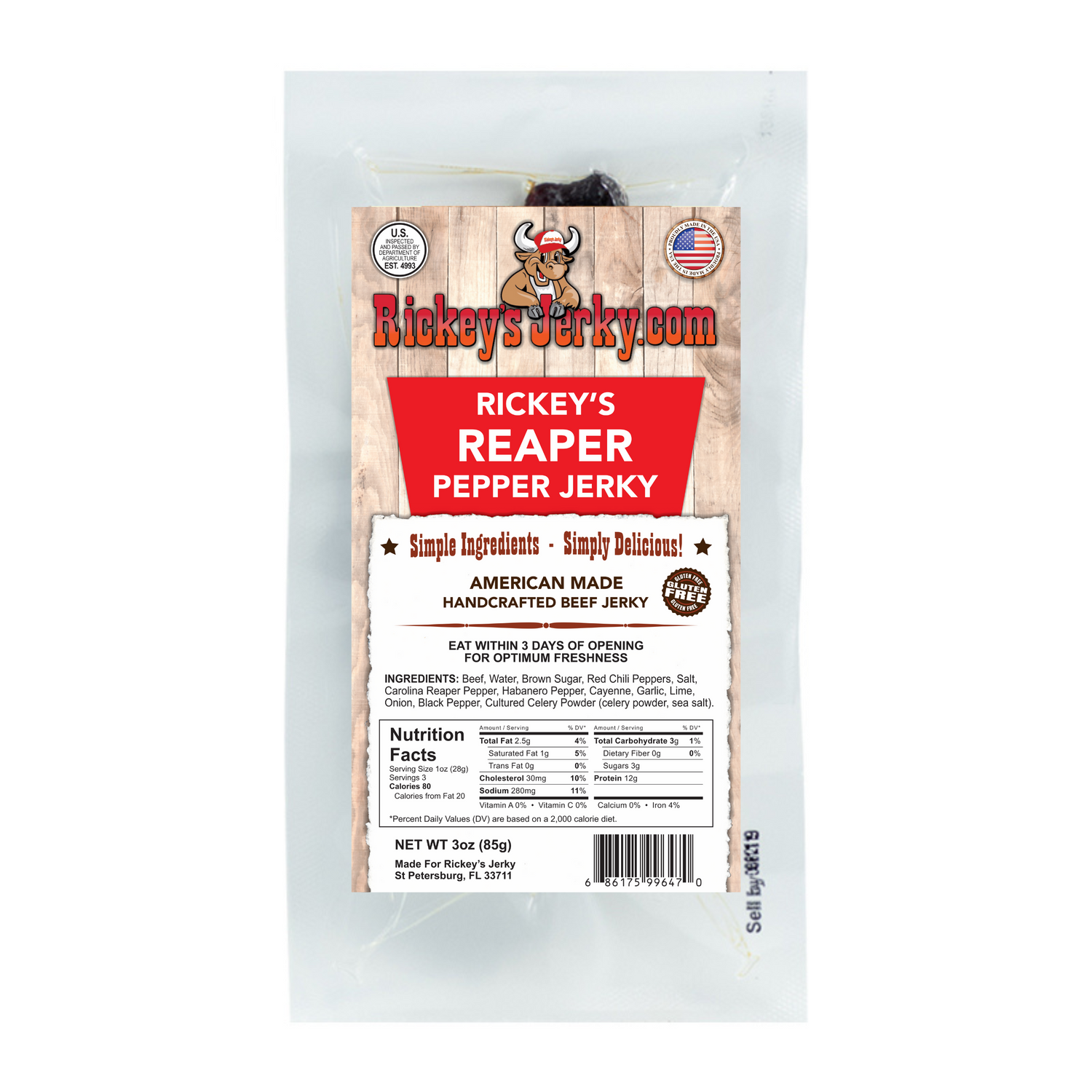 REAPER
Introducing the Carolina Reaper Jerky - the ultimate challenge for spice enthusiasts! This jerky is not for the faint of heart, so proceed with caution. If you're a seasoned "hot eater" seeking the hottest of flavors or looking to surprise a fellow spice lover with a daring novelty, this jerky is the perfect choice. Made with a generous pound of powdered Carolina Reaper pepper per 100 pounds of meat, it promises an intense and fiery experience that will leave a lasting impression. However, if you're new to the world of extreme heat, we recommend having a plan in place and your affairs in order before taking on this fiery adventure.
🔥🔥🔥🔥 
RED CHILI LIME
Immerse yourself in the sensational taste of our Fiesta Flavor - an absolute delight! With a low sugar content, this jerky boasts a more traditional dry texture, offering a classic and authentic snacking experience like no other. Prepare to be captivated by the fantastic flavors of this fiesta-inspired treat!
ROASTED GARLIC
Savor the rich essence of our Roasted Garlic Jerky, a delightful symphony of smoky, aromatic flavors, and a hearty burst of garlic. Each thick, meaty bite is a mouthwatering experience, and it comes as no surprise that it's an award-winning favorite among food enthusiasts. Whether you're a fan of red wine or other liquors, this jerky pairs exquisitely, offering a taste adventure that you can enjoy in your own unique way. Embrace the indulgence and treat your taste buds to an unforgettable culinary journey!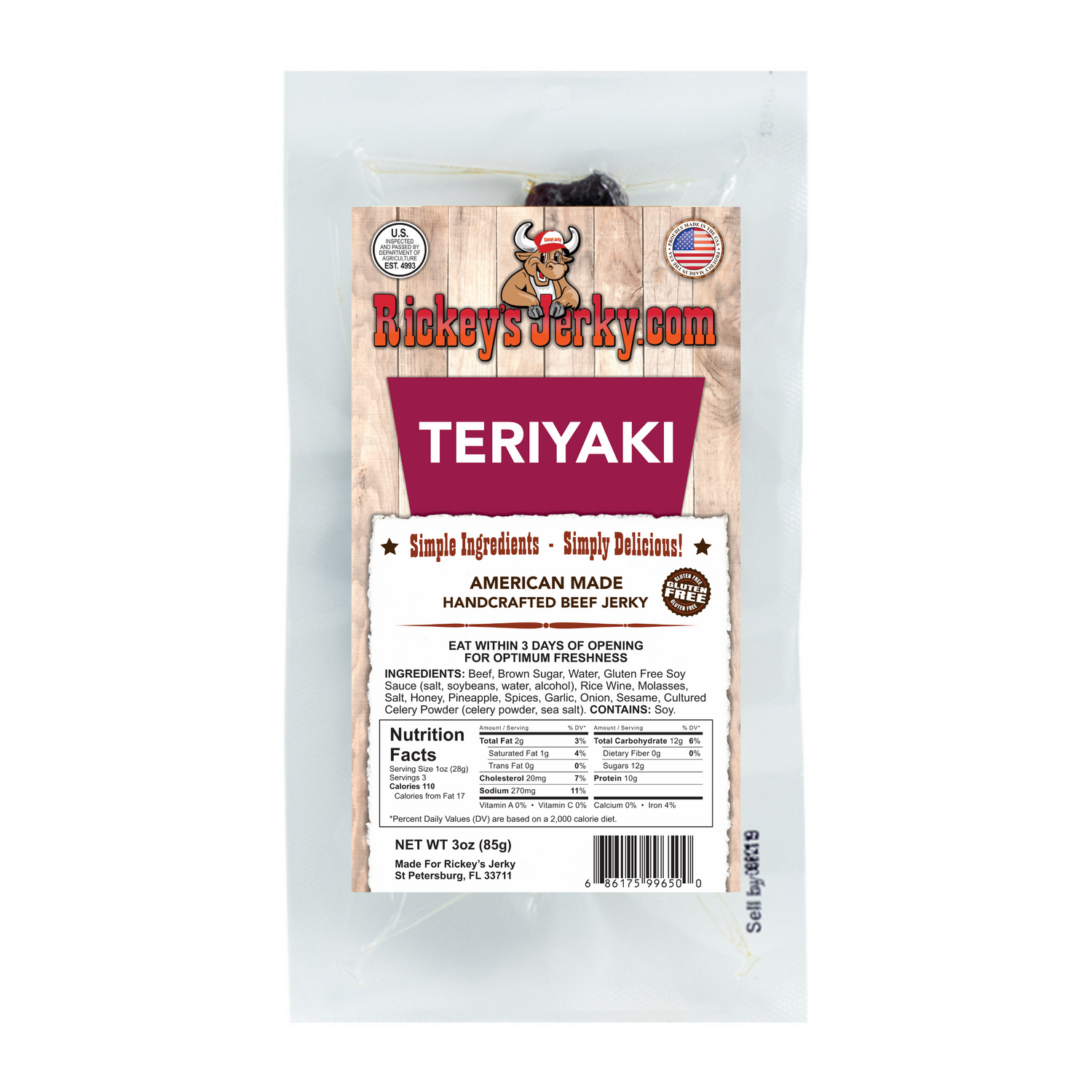 TERIYAKI
Discover our Gluten-Free Teriyaki Jerky - a rare gem that is all-natural, healthy, and absolutely delicious! Indulge in the perfect balance of sweetness and tenderness with every bite. You'll be amazed at how this wholesome treat tastes so incredibly delightful - it's a must-try that just might become your new favorite jerky!
TEXAS BBQ
Immerse yourself in a flavor-packed experience with our Sweet, Tangy, Smoky, Spicy Steak Jerky! Each thick cut is a taste of Texas heaven in every bite, a true Southern delicacy meant to delight the whole Union. Enhanced with chili pepper for a spicy kick, it pairs perfectly with your favorite cold drink, ensuring a satisfying and unforgettable snacking indulgence! 🔥🔥🔥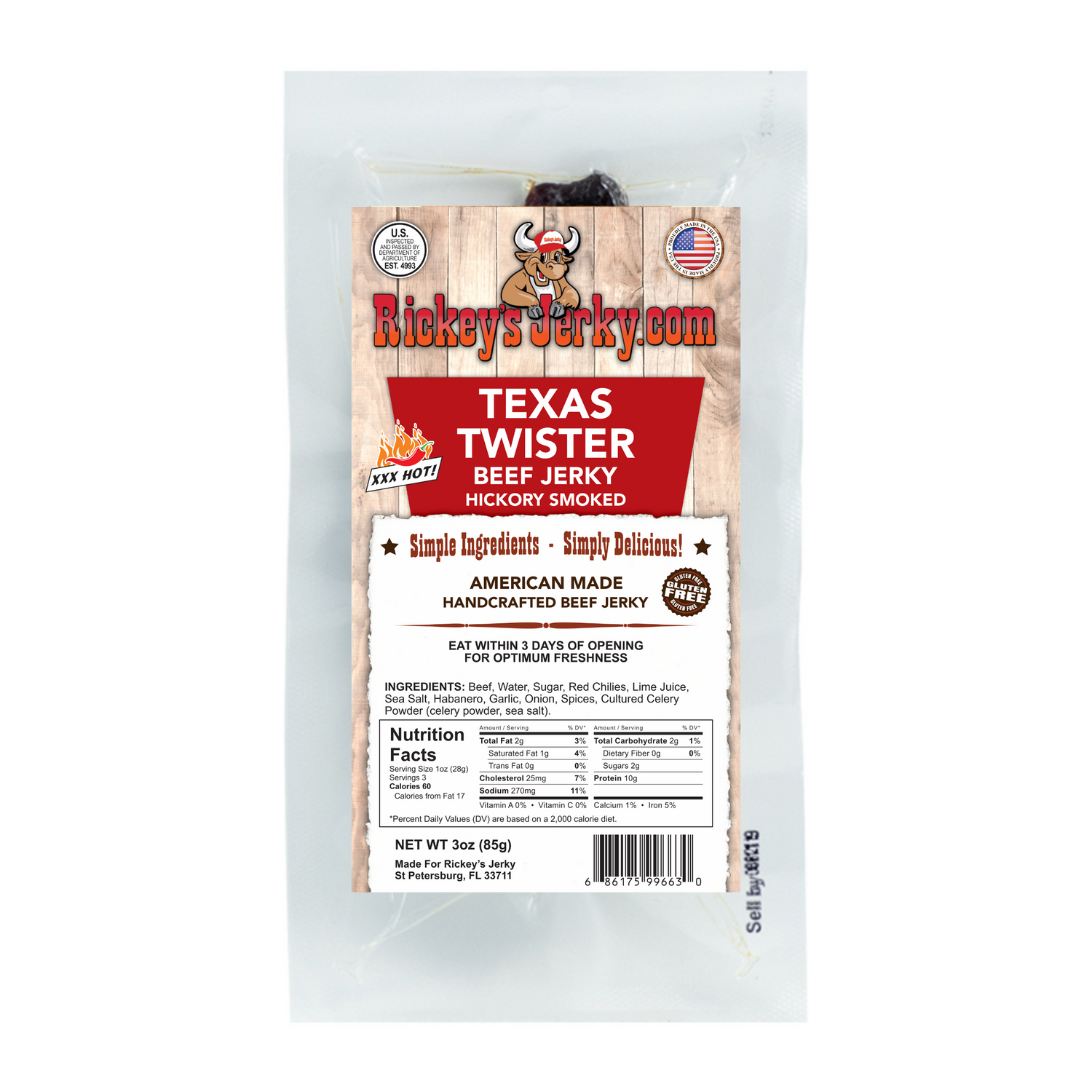 TEXAS TWISTER
Indulge in our Hot Jerky - a fiery delight not for the faint of heart! Bursting with intense and fiery flavors, this spicy kick is perfect for those who seek a bold and exhilarating snacking adventure. Brace yourself for an intense and unforgettable jerky experience like no other! 🔥🔥🔥🔥
WHISKEY BBQ
Whiskey BBQ Jerky - a delightful blend of sweetness and tenderness with a touch of whiskey in each bite. Experience a subtle kick at the end without any worries of getting tipsy, as the alcohol evaporates during the smoking process. This clean and all-natural jerky offers a smoky, tangy, and sweet combination that's perfect for everyone, making it a treat fit for all ages to enjoy! 🔥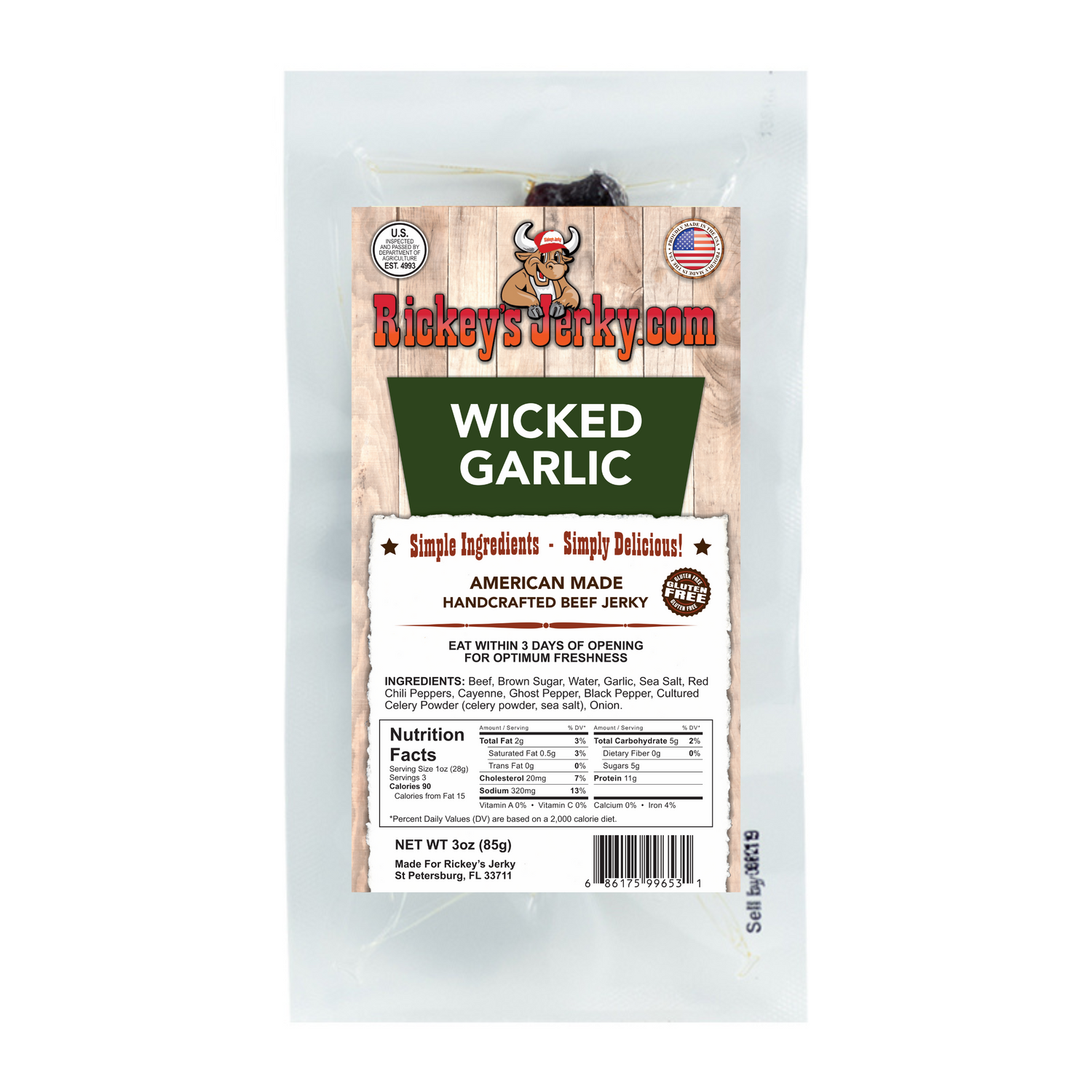 WICKED GARLIC
Experience the wild side of our fanciest Garlic Jerky, now infused with a hint of red chili pepper - a true flavor adventure awaits! As soon as you open the package, the captivating garlic fragrance will engulf your senses, setting the stage for an unforgettable snacking experience. With every bite, prepare for a delightful party of flavors that'll have your taste buds dancing with joy! 🔥🔥